30+ Years of Automation Excellence
Based in Greenville, SC, McAlister Design & Automation, LLC, was founded in 1992 and built on the idea of being a trusted source for the automation needs of manufacturers in the southeast region. Through continuous focus on value creation for our stakeholders, McAlister Design & Automation has experienced steady growth and boasts a significant number of repeat customers.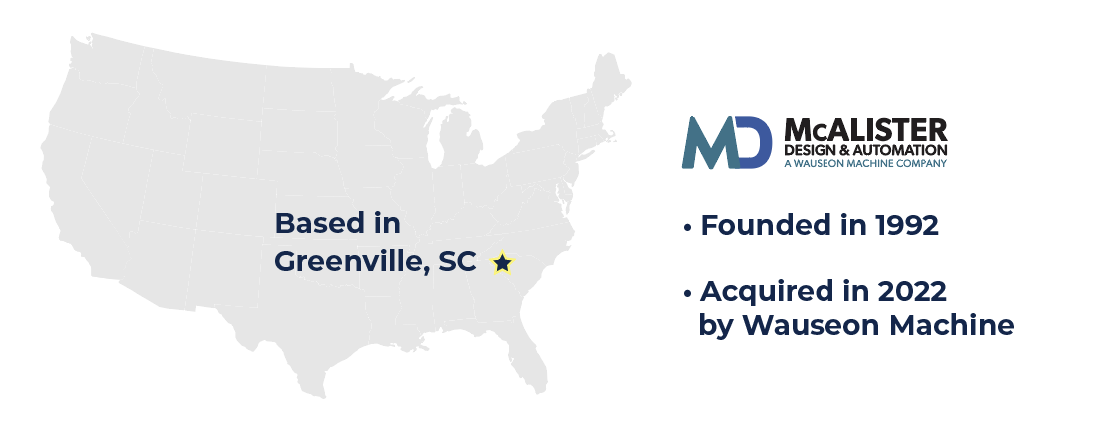 Customers keep coming back to us, and our high level of repeat customers means we've been growing since we opened our doors. We proudly leverage this strategic geography in the southeastern U.S.

Specializing in custom automation solutions, McAlister Design & Automation is a trusted partner for solving the most complex manufacturing challenges. Our collaborative problem solving approach ensures we deliver highest-value solutions for all of our customers.

McAlister Design & Automation was acquired in 2022 by Wauseon Machine. Wauseon Machine provides advanced engineering, equipment, and technology solutions to improve manufacturing outcomes.
Capabilities and Expertise
We focus on customer value-creation through excellence in project execution. We leverage our experience across a diverse range of industries to provide a truly consultative, partner-based approach to our projects.

McAlister Design & Automation's facilities, totaling 32,000 sq. ft., bring significant capacity, both in floor space and technical resources, for automation projects.
McAlister Design & Automation strives to be the recognized leader and preferred partner in automation solutions through excellence in people, quality, delivery, and cost with an unwavering commitment to create value for our employees, customers, suppliers, and communities.
Our vision at McAlister Design & Automation is to deliver innovative solutions for tomorrow's manufacturing challenges.

Continuous Improvement Mindset




Treat Others with Respect

Ownership and Accountability